Learning how to groom a dog varies a bit with each dog breed.  Just as you can't keep your car in top shape by just filling the tank with gas, you need to do more than just give your dog food and water.
Dogs need healthy food, clean water, fresh air, sunlight, regular exercise, grooming and a safe space or crate of their own.  Grooming is what we'll be discussing here.
Fortunately pet grooming for Weimaraners is easy, because they are low maintenance dogs!
Pet grooming at home is more than just brushing your dog. Dog grooming also includes bathing your dog, hair clipping and cutting, trimming dog nails, brushing dogs teeth, cleaning dog ears and dog eye care.
When you brush and comb your Weimaraner regularly, you will eliminate a lot of loose hair and get rid of much of the dirt and mud that your Weimaraner picks up outside.
And grooming dogs with short hair, like most Weimaraners, is easy! All you need to get started are some simple pet grooming products, a good book about grooming and a little time.
Why Groom your Dog?
Your dog's cousin, the wolf lives his life without ever being groomed.  So why does your dog need grooming?
Unlike your dog, a wolf moves from place to place.  He is able to get away from a colony of parasites, like fleas.  Your dog, on the other hand, sleeps in the same bed, lies on the same carpets and gets re-infested regularly, once she has a problem.
If your Weimaraner loves to run in fields or woods, he gets mats in his hair, stickers and mud or dirt.  As you may have noticed, his self-grooming is limited.
Grooming for Weimaraners
Whether your dog is a puppy or a senior, grooming prevents certain skin disorders and helps prevent parasites.  It helps keep your dog's mouth healthy, and healthy teeth and gums keep your dog's heart in good shape.
When you groom your dog regularly, you quickly see any ticks or fleas.  Another advantage is that you also notice anything abnormal like a growth, cuts and scrapes, or infection.
Brushing your dog's teeth is very important for his general health.
Just like with people, your dog will build up cholesterol in his veins and arteries if he has tartar buildup or periodontal disease of his gums.  Periodontal disease is the leading cause of heart disease in dogs.
Taking just a minute or two each day to care for your dog's teeth and gums, will prevent a number of diseases that can affect your Weimaraner dog.
In addition to brushing your dog's teeth, you can get a dental gel that prevents tartar and give your dog dental treats.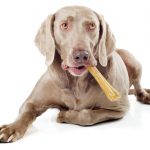 Giving your dog dental treats and dental dog toys will help keep your dog's teeth free from plaque buildup.  And most dogs are eager to be cooperative.
The dental chew shown in the photo to the left could keep your dog occupied for quite a while, while it cleans his teeth.  He'll love one, too!
A dog's external ear canal is long and bending.  Because of this, we need to clean our dog's ears routinely, to prevent issues like ear mites, wax buildup and ear infections.
If your dog has hair growing in his ears, the hair will prevent air flow, catch any dirt or wax and add to the problems.
Because Weimaraners have droopy ears, they already have an air circulation issue.  So we need to be especially careful to keep their ears clean and open.
Hunting dogs can also get a burr, dirt or seeds in their ears.  If you have been hunting with your Weim, you should check his ears for foreign matter or ticks, when you get home.
Trimming your dog's nails is not just for looks.  When a dog's nails get too long, he can slip around on hard floors, slide going up and down steps, and can actually get hurt falling.  And your dog can actually become a bit lame because of nails that are too long.
To keep nails the right length, they need to be trimmed regularly.  This is because, if they grow too long, you can cut to the quick when you trim them.  When you do this, you will end up with a very unhappy dog and a lot of blood.
Trimming dog nails is not hard, but there is a right way and a wrong way to do it.  One of the secrets of making this easy is to make sure that you have quality tools to do the job.
Weimaraners are easy care dogs who require very little maintenance. However, one of the things that you must do routinely, is brush them.
Most dogs love to be brushed, but occasionally, there is one who is afraid of being brushed.  If you handle your dog and gently brush her when she is a puppy, this is less likely to happen.
Brushing your dog is not hard.  And it's a great time for bonding with your pet.
This aspect of Weimaraner care is very easy.  Once in awhile you'll have to take a minute or two to attend to your Weimaraner's eyes.
Generally, your dog's eyes need attention after a good run or a day of hunting.  This is when they are most likely to have foreign matter like dust or seeds in them.
Of course, with your active Weimaraner, you will quickly find a need to bathe her.  All dogs, but especially active outdoor types, need to be bathed.
If you are organized, bath time will a lot more enjoyable for both of you.  You also need to have a strategy for keeping your dog in the bath area.  Dogs can be sneaky, and they will find a way to escape, if that's what they want to do!
Weimaraner dogs can have canine skin allergies and they often do have dry rough skin.  It's hard to say if their skin is irritated because of hunting and running through woods and fields–or just because they are sensitive.
If your dog has any of the signs of skin sensitivity, you should consider using a gentle and soothing hypoallergenic dog shampoo.
Getting your new puppy ready for grooming starts the minute you bring her home.
Handle your puppy every day to bond with her and get her used to being touched and handled.  This will make grooming natural and easy when she gets older.
Of course this will be fun for you, so do get your dog ready for grooming early.  In addition to handling your pup, introduce her to the tools that you will use to groom her–brushes, combs, clippers, etc.
Weimaraners are Easy
Knowing how to groom your Weimaraner and care for his coat, ears, nails, and teeth will contribute to the overall well-being of your pet.
By grooming regularly you will be in a better position to notice any changes in your dogs' body. For example, a lump that wasn't there last time you looked, or anything that might be a sign of illness or injury.
Grooming doesn't get much easier than it does with a short haired Weimaraner. This aristocratic dog has a short, smooth, and sleek coat, which sheds minimally.
Consider this to be an excellent bonding opportunity for the two of you. Knowing how to groom your dog can save you both time and money.
Knowing how to groom a dog, especially when she's a Weimaraner, is really easy!
Get your FREE mini-course on Weimaraner Dog Grooming
If you found this article helpful,
please take a few seconds to share it with a friend…
Photo courtesy of Renee V