(Psst: The FTC wants me to remind you that this website contains affiliate links. That means if you make a purchase from a link you click on, I might receive a small commission. This does not increase the price you'll pay for that item nor does it decrease the awesomeness of the item. Linda)
Travel with a dog, is now easier than you thought!  Not only are motels more pet friendly, but there are also some great products on the market to make your vacation stress free.
Purchasing just a few dog travel products can make your vacation a safe and fun-filled experience for your Weimaraner and for your family.
And, more and more you will find dog friendly bed and breakfasts, motels and hotels that are willing to work with you to assure that you have a great vacation—with your dog!
So do your homework ahead of time so that you locate the dog friendly lodging, and make a few purchases so that you can travel light.  But do make sure that you have all the dog supplies that you'll need to guarantee that your dog will be safe and happy…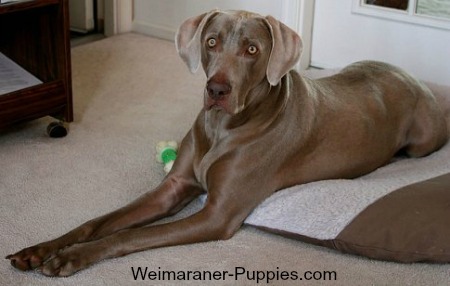 A good dog travel bed should be portable and comfortable.
Preparing to Travel with Your Dog
Travel with dogs, just like travel with kids, can become a major nightmare—if you take every toy your dog owns, his crate and dog bed and every other piece of dog equipment you have.
The secret to having a good vacation with your pet is to travel light and travel smart,  A dog friendly vacation can be lots of fun.  It just takes some planning and preparation…
Plan Ahead
If your hotel or motel is dog friendly, what exactly does that mean…
Pet Emergency Evacuation Plans
While it might seem remote, you could travel to an area that is hit by a natural disaster.  Make sure you know how you would handle your Weimaraner's care.  What would you do if you became separated from him?
Dog Anxiety Relief
It's a fact of life. Some dogs do get nervous about travelling, and that doesn't make traveling with your dog a lot of fun!
Using a product like this natural anxiety reliever can give your dog (and you) some relief.
By the way, it also works for separation anxiety, a common problem with Weimaraners!
What to Take with You
Dog Friendly Crate – In many cases you won't need to take your dog's crate. However, for some forms of dog travel, a collapsible dog crate comes in handy…
Large Dog Air Travel Crate – Many people are now purchasing a spot on the airplane, with them. A Weimaraner won't fit under the airplane seat or do well on your lap. What are your options for airline travel with your dog…
Dog Car Travel – Nobody expects to stop quickly or be in an accident.  But, if you need to put on the brakes, a dog safety harness will protect your dog from harm.
While a Weimaraner is a large dog, it is still possible to vacation with your pet and have a great dog friendly vacation together.
It just takes a little research, planning and preparation for you to travel with your pet.  And, of course, knowing ahead of time that your Weim will be welcome,, will add to your comfort level…