Weimaraner dogs are a special breed of dog that works well with hunters but also makes a perfect dog for families with children.
But Weimaraners do have special breed characteristics that make them suitable for some people, and not for others.
Are you are considering doing a Weimaraner rescue adoption or buying a Weimaraner dog?  It's important that you and your family consider some important issues, first…
Only then will you know if the Weimaraner breed is right for you.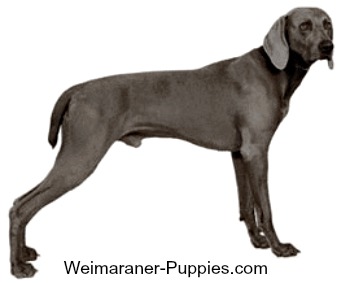 About Weimaraner Puppies
The Weimaraner breed is energetic, lovable and intelligent.
But they are not little lap dogs, although some Weimaraners do seem to think that they are…
Here are some things for you to consider:
Weimaraners have a long history of hunting and they were bred to hunt for large game like bears, wild hogs, wild cats and deer.  Because of their great strength and stamina, they would run the game down and then hold it down, until the hunter arrived.
More recently, Weimaraners are bred and trained to hunt small game like birds.
Somewhere along the line, blue Weimaraners appeared.  They are not very common, and if you have one, you are fortunate!
Breeds and Breeders
At some point you will need to make a choice.  Which dog breed is best for you?
If you decide on a Weimaraner puppy, you will find your perfect puppy at one of these:
AKC Weimaraner puppy breeder
Weimaraner breeder
Weimaraner rescue
ASPCA rescue
Weimaraner Dog Personalities
Although Weimaraner dogs are incredibly intelligent and loving, they can also be a handful!
For the Weimaraner, life is an adventure!  Play and socialization with other dogs, as well as people, is very important to the happiness of all Weimaraners—and their owners!  They have a nice temperament.
As far as dog breeds go, Weimaraner dogs are well suited for people that have a lot of time and patience. And for people who are sportsmen, hunters and athletes.
Training a Weimaraner puppy can be frustrating because they can be stubborn. But if you learn how to communicate with them in a way they can understand, Weimaraner puppies learn very quickly!
Vizslas are Close Cousins
Similar in appearance to the Weimaraner, Vizslas have reddish tones.  They have the same level of energy and, if you can find one of these lovely dogs, they can hunt, like their cousins.
Weimaraner Maintenance
Aside from frequent and vigorous walks and exercise, Weimaraners do not need a lot of grooming and attention.  With their short hair, simple brushing from time to time will keep things in order.
Of course shedding can be an issue, and you will have to vacuum shed hair fairly often.
As far as health goes, Weimaraners are pretty healthy, with only a few health problems that are common to the breed.
If you found this article helpful,
please take a few seconds to share it with a friend…
Related Articles
What to look for in a Weimaraner breeder