(Psst: The FTC wants me to remind you that this website contains affiliate links. That means if you make a purchase from a link you click on, I might receive a small commission. This does not increase the price you'll pay for that item nor does it decrease the awesomeness of the item. Linda)
Best Dog Vests for Hunting with Weimaraners
A hunting dog vest that is chosen carefully, can protect your Weimaraner, no matter where you hunt, what the conditions are, or the time of year.
For example, a dog hunting vest can keep your dog safe from injury and warm or cool in winter cold or summer heat.
In addition, a fluorescent dog vest is highly visible, helping you and other hunters know exactly where your dog is located.
And a vest that is rugged and tough will protect your dog from scratches and bruises when she is hot on the trail of game.
Thus, the vest is a friend to both you and your dog. It will protect your dog and you will have peace of mind, knowing that you have given your hunting companion greater protection…
Weimaraner dogs strive to please their owners, and they will obey their owners, even if they get into a situation where they get hurt. Giving your dog all the possible protection possible, will minimize his cuts, scratches and bruises!
One of the simplest ways to protect your hunting dog, is to provide her with a hunting dog vest.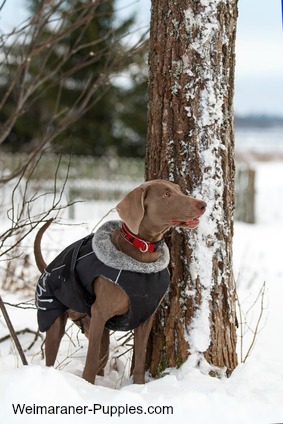 Different Vests For Different Situations
A good rule for all hunters with dogs is to NEVER take your dog out hunting, no matter what time of year, without some form of protection.
There are a number of good reasons that you should consider using a dog vest, dog coat, dog jacket, chest protector or a Tummy Saver on your dog:
High Visibility
A fluorescent hunting dog vest gives your dog high visibility. Not only do you want to know where your dog is—you want other hunters to be aware of his location, too.
A visible dog is a lot safer than a dog who is outfitted in camouflage.
Orange dog vests and reflective vests like this  reflective safety vest make your dog easier to spot in the brush, which keeps you from shooting in the dog's vicinity.
Even well trained dogs can be in the wrong place at the worst possible time. While it is quite inexpensive and highly visible, this vest does not provide protection for your dog's chest.
 Warmth
Depending on where you live and the weather when you hunt, you may want to protect your dog from cold, wet weather. A warm durable dog coat or a good neoprene waterproof hunting dog vest can do this.
Waterproof and Floating
Weimaraners often hunt for ducks, which often means retrieving forays into ice cold water. Swimming dog safety vests (like this popular one by EzyDog) and some other specialized vests include insulation for warmth and they are buoyant in the water, as well.
Cooling Hunting Dog Vest
The Ruffwear Swamp Cooler for Dogs works for about 45 minutes to an hour. When it feels dry to the touch, you can refresh it for more cooling by dipping it into water. A cooling dog vest can prevent overheating and heat stroke in your dog.
Chest or Tummy Protectors
If you've trained your Weim to ferret out small pray, a dog chest protector creates a barrier between your dog's skin and briars, weeds and sharp stones that your dog will come into contact with. The dog vest prevents cuts, scratches and other irritations.
In addition, a chest protector can make cleaning mud and debris off your dog easier and protect her tummy from snow and ice.
The best Weimaraner hunting dog vest is one that shields your dog under various conditions. However, there is not hunting dog vest that will work for every possible situation!
Hunting Dog Features to Look For…
If your Weimaraner will be hunting with you, and you would like to buy a hunting vest for her, there are some things that you should look for in a dog vest.
Adjustable
Look for dog vests that have adjustable fittings so that you can adjust the vest to fit your dog comfortably. Some dog vests have double adjustments, allowing you to keep the vest comfortable—even if your dog gains or loses weight.
Comfort
A hunting dog vest should be snug, but comfortable.
Washable
Weimaraner hunting dogs can get into lots of dirt and mud. It's important to be able to clean your dog's hunting vest.
Easy to put on your dog
You will be hunting in all kinds of weather.  Make sure you can put the vest easily on your dog, even in the rain or when your dog is excited…
High Visibility
Whether your dog is swimming for a duck or racing through the brush, you want to be able to see her easily…
Chest and stomach protection
If you take your dog small game hunting or hunting birds, you'll want to make sure that his dog vest protects his chest and stomach.
Buoyancy
Of course, if your Weimaraner is a duck hunter, you'll want to make sure that his vest is a floating vest. Although Weimaraners are strong swimmers, they can still get tired and need a little assistance.
While a hunting dog vest can have a number of different uses, when you are shopping, it's important to remember what you would like the vest to do for your dog.
And, if you do several types of hunting with your dog, you might need to consider getting more than one kind of dog hunting vest for him.
A good resource for dog training is Game Dog by Richard A. Wolters.