(Psst: The FTC wants me to remind you that this website contains affiliate links. That means if you make a purchase from a link you click on, I might receive a small commission. This does not increase the price you'll pay for that item nor does it decrease the awesomeness of the item. Linda)
A canine urinary tract infection can leave your dog feeling down in the dumps. And Weimaraners are among the dogs who sometimes have to battle persistent urinary tract infections.
Some dogs are more likely to get UTIs (urinary tract infections) than others.  For example, if your dog has diabetes, Cushing's disease, or if she has had nerve damage, damage to her bladder, or a spinal cord injury, she is more susceptible to infections.
And, of course, as a dog ages, he will naturally have a lowered immunity to everything.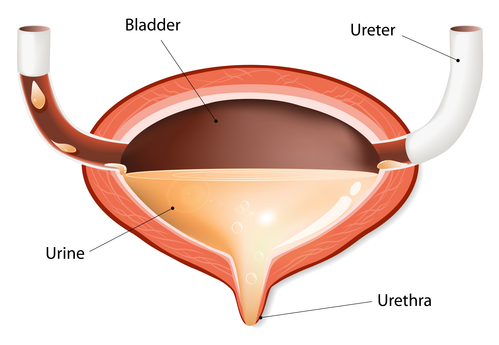 These topics are included in this article:
Who is at Risk for a Urinary Tract Infection?
Your Dog's Defense System
Symptoms of Urinary Tract Infections in Dogs
Puppies Can Get Urinary Tract Infections
How a Diagnosis is Made
Signs a Urinary Tract Infection is Getting Worse
Treatment for Urinary Tract Infections in Dogs
Prevention of Canine Urinary Tract Infections
Who is at Risk for a Urinary Tract Infection?
Dogs at risk tend to be prone to bladder infections and stones.
Just like people, female dogs are more likely to get a UTI than male dogs.  This is because they have a shorter urethra leading to the bladder.  The urethra is where bacteria usually enter the dog's body, although it is possible to get a urinary tract infection through the blood or lymphatic system.
Most bacteria that invade a dog's urinary tract system cannot be passed on to people.
Your dog is most at risk for UTIs if:
She is not able to completely empty her bladder when she pees.
Your dog has overly dilute urine – She drinks too much water.
She is diabetic – Sugar in the urine is a particularly good breeding ground for bacteria.
Your dog has a weakened immune system caused by another disease or recent illness like Cushing's disease.
Your dog has had an infection in the uterus or prostate gland
History of bladder stones or kidney stones
Submissive urination or separation anxiety are another story.  If your dog has either issue, it is behavioral, not a physical illness.  And both these issues need to be treated as behavior issues.
Your Dog's Defense System
If your dog is healthy, she has special built-in defenses against the invasion of bacteria in her urinary tract.  Antibodies coat the linings of the urethra and bladder.  They fight off any bacteria that enter.
In addition, there are little muscles that are located strategically along the urinary tract.  These muscles or sphincters help seal off portions of the urinary tract from other portions, to limit the spread of infection.
Your dog's pH plays a part, as well.  A healthy dog's urine is acidic, which prevents the growth of bacteria.
Symptoms of urinary tract infections in dogs
So how can you tell if your dog has a urinary tract infection?  If your dog has developed an infection you will see her straining to urinate and there will be a large amount of urine when she does go.
Or she pees frequently, strains and doesn't seem to have anything left to come out.
You may see dark urine or blood in your dog's urine.  Blood usually looks pinkish, so you may not notice it unless you find a puddle on your floor or carpeting.
Your dog will pee more frequently, or she may just dribble small amounts of urine frequently, inside your house or apartment.
Dogs with urinary tract infections also run a fever, are depressed because they just don't feel good and they may stop eating.
When you take your dog outside, she may cry when she tries to urinate.  And when she is inside, she may keep licking her genital area.
Your dog may have any or all of these symptoms.  But, here's the clincher…  She may have no symptoms that you can observe, yet still have a urinary tract infection.
Puppies Can Get Urinary Tract Infections
Older dogs or sick dogs are not the only ones at risk for getting a UTI.  In fact, puppies often do get urinary tract infections.
If your puppy has a UTI, this will interfere with your house training efforts.  Your little puppy will simply not be able to hold her urine and she will pee in your home.
If you have a puppy urinary tract infection to deal with, you will find small puddles of pee on the floor, your puppy will pee frequently, and the urine will have a very strong odor.
How a Diagnosis is Made
If you notice the symptoms above, you will probably take your dog to the vet to be checked out.  The diagnosis will be made, based on what you have observed about your dog, a urine test and possibly a urine culture, to see exactly what kind of bacteria caused the infection.
If your vet suspects bladder stones, he may order a radiograph.
And, your vet may do a blood test to see if your dog is diabetic or has Cushing's disease.
Multiple trips to the vet can be expensive in time and money.  If your Weimaraner already has a history of urinary tract infections, you can test her at home with an inexpensive test kit from Amazon.
Signs a Urinary Tract Infection is Getting Worse
If you have ever had a urinary tract infection yourself, you know that you can feel really uncomfortable.  And the pain and need to urinate, can be almost unbearable.
Untreated, a urinary tract infection can get much worse.  Most UTIs start in the urethra, which is where the bacteria enter the dog's body.  Next, the bacteria travel to the bladder, causing an infection there.
If still untreated, the bacteria can make their way up to the kidneys, causing a kidney infection.
Signs that your dog has a more extensive infection are:
Increased fever
Pain in the area of his kidneys
Vomiting
Not eating
Drinking excessive amounts of water
Excessively peeing
Having accidents in your house or apartment, especially if your dog has been house trained
Canine urinary tract infections do need to be treated because they can lead to kidney infections and then to kidney failure.
Treatment for Urinary Tract Infections in Dogs
There are several reasons why UTIs need to be treated promptly.
Bacteria that cause the infections can become resistant to antibiotics if not treated properly.  This is irreversible, so the resistant bacteria continue to cause infection and inflammation.
Secondly, if a dog's UTI is not treated promptly, the infection can spread to other parts of the urinary system.  When it infects the kidneys, the condition becomes much more serious.
Last, if your dog's urinary tract infections are not treated, struvite stones can form in the urinary tract, leading to pain and discomfort.
If your dog has a urinary tract infection, your vet will probably prescribe an antibiotic.  Occasionally, when a dog has a long history of repeat infections, a vet will prescribe low-dose antibiotics, to be taken over a long term.
What You can do to Prevent Canine Urinary Tract Infections
If your Bichon has been troubled by UTIs or if you just want to make sure that she doesn't get one, there are some things that you can do to prevent infection:
Fresh Water
Provide plenty of fresh clean water for your dog.  Place bowls of water in different parts of the house and make sure they are full. Alternatively, you can get a fresh water fountain to entice your dog to drink.
Special Dog Treats
Cranberry is good for both people and dogs.  Physicians prescribe cranberry juice for people who have urinary tract infections.  It's safe for everyone, even pregnant women!
How does it work?  Cranberry works by preventing the bacteria from sticking to the lining of the urethra and bladder. For your dog,  Cranberry treats help support a healthy urinary tract.
Cranberry Supplement
Simply sprinkle a small amount of cranberry extract or powder on your dog's food to give her urinary tract protection.
Dog Food 
Even dog food can support your dog's urinary tract.  A dog food like Royal Canin Veterinary Diet, that controls the amount of phosphorus, calcium and protein your dog gets, is healthy for a dog who suffers from frequent urinary tract infections.
Frequent Trips Outside
Take your dog outside frequently to pee.
When urine is retained in the bladder, this gives bacteria a chance to multiply. Emptying the bladder frequently makes it harder to develop an infection.
Grooming for Female Dogs
Keep the hair trimmed around your dog's vulva, as this hair is often a source of bacteria that enter the urethra to cause infection.
Even though your dog may be prone to getting urinary tract infections, there are some things that you can do to prevent infections.
Do take action quickly if your dog has an infection, as urinary tract infections are painful and really uncomfortable!
If you handle infections in a timely fashion, your dog should be back to normal in a short while.