(Psst: The FTC wants me to remind you that this website contains affiliate links. That means if you make a purchase from a link you click on, I might receive a small commission. This does not increase the price you'll pay for that item nor does it decrease the awesomeness of the item. Linda)
Separation anxiety in older dogs is not the same as the separation anxiety we see in younger dogs.  While they may look similar, the reasons for separation anxiety in senior dogs are quite different.
Even if you have a well-adjusted dog that has been perfectly comfortable with your schedule of leaving routinely, he may become apprehensive when he sees you getting ready to depart!  In fact, a full 40% of senior dogs will start to exhibit separation anxiety.
So why the difference?  What suddenly made your dog dread your leaving, even if only for a short while?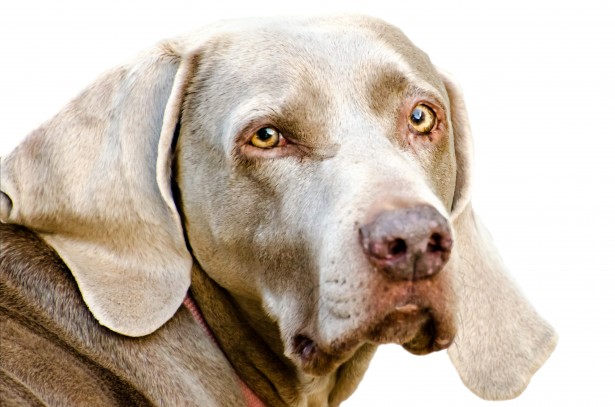 As you read this article, I'll address these issues:
Symptoms of Old Dog Separation Anxiety
Why is Your Old Dog Suddenly Anxious?
Is it Really Old Dog Separation Anxiety?
How to Help Your Dog Feel Calm and Secure
Symptoms of Separation Anxiety in Older Dogs
If your senior dog is experiencing Old Dog Separation Anxiety, his symptoms will be very similar to those we see in younger dogs who become nervous and apprehensive when their owners leave.
However, if your Bichon Frise never had a problem before, she may be dreading your leaving because she is getting old and things are changing for her.
Behavior When You are Leaving
Instead of just accepting that you are going away for awhile, your dog now becomes anxious when she sees the "going away signals".  These signals are signs to your dog that you will be leaving.  They include simple actions like changing your shoes, putting a coat on, getting your pocketbook, grabbing the car keys and whatever you do before you leave the house.
When you leave, your anxious dog will show some or all of these symptoms:
Barking or crying constantly (Your neighbors may point this out to you.)
Pacing – Going from room to room looking for you
Drooling and panting nervously – You will find little puddles of saliva.
Incontinence – Your Bichon may pee or poop on the floor, even if she has been housetrained. This can happen because she needed to go outside and no one was home to let her out.  If she couldn't wait, she will be dismayed because she knows she is not supposed to go in the house.  However, some older dogs don't even know that they are peeing or pooping in the house.  That's because they have forgotten the rules and routine, because they have dementia.  In this case, your dog won't have a clue about the mess you find when you get home.
Chewing furniture or personal items like clothing – This is nervous chewing, sort of like a person who cracks his knuckles.
Not eating or drinking
Behavior When You are Home
If your dog is suffering from separation anxiety, you may also see some indications when you are at home.
Your dog is clingy – He follows you from room to room, is underfoot and it almost seems that he is attached to your leg.
Shaking and trembling – Your dog is not as confident as she used to be, and she seems frightened of things that used to be OK for her.
Restless pacing with no obvious reason for your dog to be doing it
Your dog becomes hyper-alert and does not leave your side for even a moment, the second that you start to get ready to go away.
If your dog is having trouble with your leaving the house, it is important to understand that this is painful for her.  She is really worried about your going away and her being left alone.
Later in this article, we'll talk about how to be gentle with your dog, without reinforcing her feelings of insecurity.
Why is Your Old Dog Suddenly Anxious?
There are a number of reasons that old dogs suddenly have anxiety over their owner's leaving the house.  They have more to do with how your dog is feeling than anything that you are doing.
Your dog is aging, and, with old age, many dogs lose some of their ability to sense the world around them.  Still  others have a disease or illness that makes them feel ill or have pain.
In either case, your dog no longer feels as safe and secure as she did when she was young.
Loss of Hearing or Sight
Most of the time a dog who loses his hearing or sight loses it gradually.  It's not the kind of thing that just happens overnight.  Sometimes a dog even loses his sense of smell, but that is less common.
For your dog, smell is the most important sense, followed by hearing and then sight.
Think about this from your dog's point of view.  If he can't hear noises, he is feeling less safe.  If he can't see what is going on or where things are, he can become confused or even lost in familiar places.
Dog Dementia or Canine Cognitive Disorder
Your dog may feel anxious because she has developed dementia.  Dog dementia can cause confusion about simple things like commands.
And your dog may have memory problems.  She can forget where her food bowl is, or she can forget to eat.  She can also forget to go outside to potty.
Dementia, with its confusion and uncertainty, can make your dog anxious about everything, even the simplest events.  Especially the uncertainty of your going away.
Pain or Illness
If your dog just doesn't feel well, he may want to be close to you. Your dog may be experiencing the pain and stiffness of arthritis.  Or she may have pain for other reasons, including cancer.
As his  caregiver, you represent food, water, fun and comfort.  And she feels better when she is with you.
As your dog gets older, she produces fewer hormones.  Hormones that helped to handle stress in your dog's puppy days, are no longer as effective in his old age.
And being separated, even for a short time, from the most important person in your dog's life, is unsettling for her.
Change in an Old Dog's Life
Just like we sometimes see with older people, your old dog doesn't really like change.
A dog can be unsettled by a big change like moving to a new house.  Everything is different.  She hears new sounds, sees unfamiliar things and even smells odd odors.
Even her food and water bowls are in a new and different place.  These things can be very confusing and upsetting to your senior Weimaraner.
Other changes that could affect your senior dog are a death in the family (person or another dog), a kid going off to college or a new person moving into the house.
Something as simple as moving your dog's food and water bowls 10 feet away, can upset your old dog.
Is it Really Old Dog Separation Anxiety?
Sometimes an older dog is anxious, but it is a different kind of anxiety.
Nighttime anxiety is seen in old dogs, and it resembles separation anxiety in some respects.
Old dogs sometimes have trouble sleeping through the night.  They can awaken and bark or cry in the night.  This, of course, can be very upsetting to their owners.
As an example, when our dog Skipper got older, she started to refuse to go into her pen (in our bedroom) at night .  She had slept in her pen at the foot of our bed, every night since she was a puppy.
But, every night, when she was older, we went through an extensive ritual to try to get her into her pen.  For some reason, night time and separation from us at night, became an issue.
A senior dog who has dementia can be confused at night.  Or a dog who is deaf can become unsettled when he can't hear.
And old dogs sometimes do get nights and days confused.
How to Help Your Dog Feel Calm and Secure
There are a number of ways that you can help your senior dog feel better about your leaving.  And calming your dog is important, as dogs with separation anxiety are more prone to getting bloat.
Because many old dogs do have varying degrees of dementia, I suggest that you don't try to use behavior modification as your main solution.  No matter how hard and long you work to change your dog's behavior, he's certain to forget everything you did!
Dogs with dementia won't remember your lessons and anything new can be upsetting to them.
Make Your Home Feel Occupied
Five seconds after you leave, your home is silent and it feels lonely to your dog.  Familiar sights and sounds are gone.
So what can you do to make it feel more like you are still there?  Do you usually play the TV or radio when you are home?  If you do, the sounds may be comforting to your dog.  If you don't, the sounds of people talking on the TV or radio can be upsetting, as it seems like someone is in the house.
But there is another option for sound.  You can play music that is calming to dogs.
To help your dog feel your presence, you can leave a piece of clothing like a sock (that you have worn) in her bed or sleeping area.  Your familiar odor will be comforting to your Bichon.
Make Your Leaving a Happy Occasion
Dogs pick up on our emotions.  So when you are getting ready to leave, you need to stay upbeat and treat the event as a "non-event", nothing to get excited about.
However, you can make this a happy time for your dog.  Save a special treat for your dog that you only give him when you are going away.
At our house, we give Skipper a dental treat and she gets one a day.  This is her very favorite treat.  Sometimes we give her one as we leave the house.  She is so distracted by the anticipation of getting her treat, that she doesn't even notice when we leave the house.  It can't be just any everyday treat, though.  It needs to be a special treat!
Another way to distract your dog is to fill a Kong toy with his favorite treats or even peanut butter.  If he enjoys this activity, you could make it a special good-bye activity.
Confine Your Dog
Keeping your dog in a small room or area can help an older dog stay oriented.  And if your dog is now incontinent, you can keep the mess to an area that can be easily washed and sanitized.
Too large an area can be confusing, especially to a dog with dementia, hearing loss or vision loss.
Place your dog's water bowl in his fenced off area, so she will always have access to water.  Make sure she also has a nice place to sleep and access to anything else she may need.
If your dog is happy in her crate, you might place her there while you are gone.
However, some dogs object to being in a crate for an extended period, and, if that is the case, your dog may become quite agitated.  If so, the crate is not for her!
Anti-Anxiety Supplements for Dogs
With some dogs, it is necessary to give them something to help calm them.  Fortunately, there are some supplements that are healthy and not harmful to your dog.
TruDog Calming Soft Chews – With proven ingredients like L-Troptophan, chamomile and ginger root that are calming, this is a natural and effective dog treat that is safe for everyday use. The company is the 2017 winner of the NCW Best Pet Products award.
Zesty Paws Calming Squares – These are chewable dog treats that will help calm your dog, but not make her sleepy. You can use these treats for other kinds of anxiety, as well.  They are good for dogs under stress when traveling, for car rides, for crowded events and for occasions when there will be loud noises like fireworks.
Bach Rescue Remedy for Pets – This is a homeopathic remedy used to calm pets that are in stressful situations. The solution is made from flowers and is safe to use in water, on treats, etc.  This one seems to work pretty fast.
Omega 3 Fatty Acids – Some recent studies have shown that Omega 3 Fatty Acids can make a dramatic difference in the way a dog handles stress.
Thundershirt to the Rescue!
A Thundershirt may be a great addition to your dog's wardrobe (or perhaps his only outfit).
The principle behind a Thundershirt is that pressure around your dog's trunk and chest is calming.  This technique has been used for thousands of years by people.  In the Bible we learned about Jesus being wrapped in swaddling clothes.  That's another way to say that the Baby was wrapped in a blanket that hugged and held Him tightly.
And in mental health facilities, people who were out of control were placed in strait jackets.  That wasn't to make them feel like prisoners.  It was actually to help them calm down.
Recently the company that makes the Thundershirt added another product to their line, Thunder Ease.  This product uses pheromones to calm a dog.  Pheromones are chemicals that act like hormones to cause a change in behavior in your pet.  In this case, they act to calm your dog.
If you are trying to keep your dog calm all day, the Thunderease Dog Calming Diffuser Kit
would be a good choice.  Unlike sprays that will wear off in a few hours, the diffuser will keep pumping out the pheromones the whole time you are gone.
Is a Furbo Dog Camera Right for Your Dog?
This is a great solution for people who work away from home every day.  You can check in on your dog to see what's going on at home.  And you can talk to your dog or dispense a treat to her.
The Furbo dog camera will take Selfies for you.  And it works with your Alexa and Wifi.
While you are gone, you can still interact with your pet.  If she is barking, you'll get an alert to tell you.  Distract your dog by tossing her a treat!
This is such a great way to calm an older confused or upset dog.  However, your dog does need to have some hearing for it to work.  And a dog with dementia may need to be in a smaller confined area with the Furbo so he can find it.
While it may be quite challenging to help your dog with old dog separation anxiety, it is possible to make your time away from her a bit more comfortable and less threatening.