(Psst: The FTC wants me to remind you that this website contains affiliate links. That means if you make a purchase from a link you click on, I might receive a small commission. This does not increase the price you'll pay for that item nor does it decrease the awesomeness of the item. Linda)
Is your dog experiencing Weimaraner old age problems?  We know that large breed dogs like Weimaraners age more quickly than small breed dogs.  That, of course, means that they don't live as long.
So what does that mean for our Weimaraners?  Well, the average Weimaraner lives to be 10-12 years old.  While those numbers are average, with good care and no health problems, a Weimaraner could live to be 3 years older.
However, it is a fact that, as dogs age, they slow down, just like people.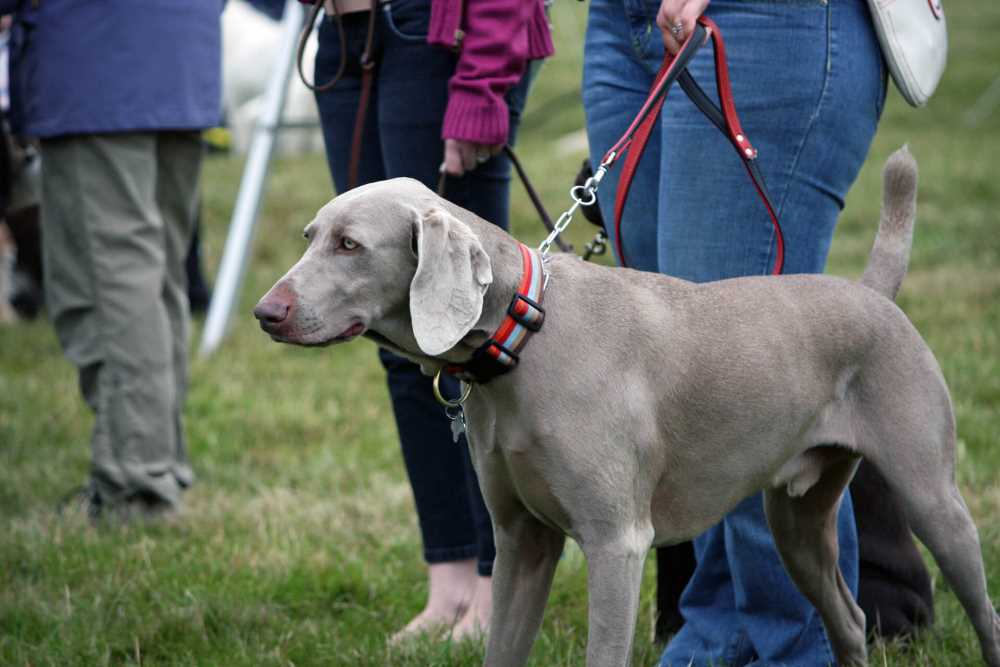 Unlike people, dogs don't understand that they are getting older and starting to fail and will die.
For example, your dog may become deaf, lose his sight or become incontinent.  All of these signs mean that he is nearing the end of his life.  But, for the most part, your dog will happily live from day to day, just taking any of these new experiences in stride.
Even if your dog should become ill, it's important for you to stay upbeat and positive.  This will help your dog accept any issues that you will be facing, together.
If you page down, you'll find summaries of articles on Weimaraner old age problems that you and your dog may encounter.  You'll find a link to each article, for your convenience.
Senior Dog Illnesses
Dog Cancer in Weimaraners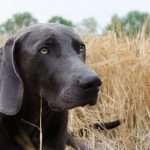 Just like other dog breeds, Weimaraners do get dog cancer.  However, usually it doesn't rear its ugly head until a dog is about 10 years old.
Fortunately not all dogs will get cancer.  And some are more likely to become ill than others.  Some of this is hereditary and some depends on your dog's general state of health.
As with other illnesses, there are things that you can do to keep your dog as healthy as possible.  One is these is to make sure that your dog has a healthy diet.
Read about Dog Cancer in Weimaraners here
Dog Cancer Treatment
If your dog has been diagnosed with cancer, it's quite a blow.  The news does take a little getting used to, but, once you've regained your energy, it's time to do what you can for your dog.
There are several kinds of treatment for dog cancer.  Your vet will help you decide which approach to take, depending on the type of cancer and how advanced it is.
Helping your dog be comfortable is one of the most important tasks for you to do.
A diagnosis of cancer is not always the absolute end.  With the proper treatment, many dogs live for years afterward.
Read more about cancer treatment for dogs here.
Canine Skin Cancer
Perhaps the most common kind of cancer in dogs is canine skin cancer.  While Weimaraners are not one of the dog breeds that are genetically predisposed to getting it, they can still get skin cancer.
Dogs with this kind of cancer get tumors that affect the skin or the tissues under the skin.  That's why we need to watch carefully any odd lumps or bumps that appear on our dogs.
Because it's really hard to identify skin cancer just by looking at it, do ask your vet to check any suspicious looking areas.
If a bump is cancerous, without looking under the microscope at a tissue sample, even a veterinarian may have some trouble diagnosing it.
Continue reading about canine skin cancer here.
Kidney Failure in Weimaraner Dogs
There are two kinds of kidney failure:  chronic and acute.  With chronic kidney disease, a dog develops symptoms gradually, over a period of time.
With acute kidney failure, things happen quickly.  The dog may have ingested some kind of poison or poisonous plant and his kidneys fail quickly.
Acute kidney failure is not limited to older dogs, so dog owners of Weimaraners of any age should be alert to signs that their dog has an emergency situtation.
Continue reading about kidney failure in dogs.
Joint Issues
Helping your Dog in Pain
You'll do almost anything to get help for your dog in pain!  And why wouldn't we?
Just like people, dogs do feel pain.  But, unlike people, dogs don't have a good way to tell you what hurts or even that something does hurt!
In addition, recognizing pain in your dog can be difficult because animals do not act the way we do, when they are in pain.  Because of this, vets used to think that dogs did not feel pain.
Unbelievable to us, years ago, veterinarians did routine surgeries like spaying and neutering,  without pain relief for dogs.
Today, we know that dogs do feel pain, and vets routinely prescribe pain medications for pain relief.
Continue reading about Pain Relief for Dogs
Rheumatoid Arthritis in Dogs
Canine rheumatoid arthritis is not nearly as common as osteoarthritis.  Because of this, if  your dog is having trouble with her joints, it is not likely to be rheumatoid arthrititis.
However, with the luck of the draw, some unlucky dogs do get rheumatoid arthritis.
Unlike osteoarthritis, rheumatoid affects more than a dog's joints.  It is an autoimmune disease that affects all the organs of a dog's body.
Continue reading about rheumatoid arthritis in dogs.